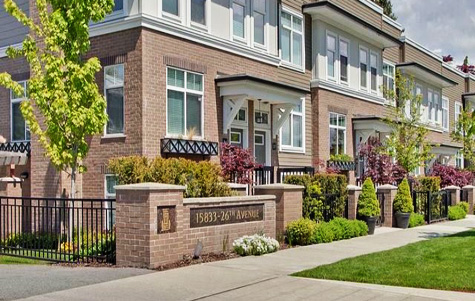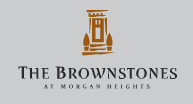 The Brownstones at Morgan Heights (15833 26AV), in South Surrey / White Rock. The Brownstones combines traditional East Coast Brownstone styling with environmentally sustainable construction features to create an affordable housing choice for active adults.
Unabashedly sexy, trendy Boston-style walk-ups in Morgan Heights with private rooftop decks and built Green Gold verified. The Brownstones at Morgan Heights in South Surrey are as urban as the ones in New York and epitomize urban living with a West Coast twist.

Built by Adera, this collection of 97 townhomes features traditional architecture with classic brick exteriors. Interiors, on the other hand, are contemporary, with luxurious hardwood, stone and imported ceramic tile finishes. Sizes range from 1,250 to 1,700 square feet.
Homeowners can relax on city-type roof decks as large as 400 square feet—with a view of the North Shore mountains. Or they can gather at the private 1,300-square-foot Club Metropolitan, which offers fitness, games and meeting rooms. The area is also rich with green space, beaches and trails for walking or biking. The three- and four-bedroom townhouses are two storeys over a ground-level tandem garage. And parking the car is key here. The Brownstones are walking distance from a new "lifestyle village," part of the City of Surrey's plan for sustainable urban centres not dependent on cars.
The village will offer everything from high-end clothing and gourmet food stores to banking, medical offices and restaurants, along with big box staples a couple of blocks away. "Sustainability is a top priority with Adera," says company president Norm Couttie. "We have worked with the Built Green Society of Canada to include multifamily developments in the Built Green program." All Adera projects, including The Brownstones, have Built Green certification.
An industry leader in environmentally conscious building, Adera recently won the Built Green B.C. member of the year award from the Greater Vancouver Home Builders' Association (GVHBA) and the B.C. Hydro Power Smart Excellence Award. Adera is a multiple winner of the award for best customer service in the annual Georgie industry awards and SAM awards from the Canadian Home Builders' Association, and was recently awarded the first-ever Gold Georgie for Customer Choice.
TO FIND OUT ABOUT NEW LISTINGS AT BROWNSTONES BEFORE THEY HIT THE PUBLIC MLS, CONTACT:

Contact Trevor, theTownhouseGuy...